Bill Holter's Commentary
This is not conspiracy theory, it is pure math. And again, they will tell you, you were given warning!
Fed Warns Dollar "Might Not Retain Its Dominance Forever"
February 12, 2019
When the TBAC published the minutes to its quarterly refunding decision two weeks ago, the most interesting part of the discussion was the "unique challenges" faced by the Treasury over the medium term, especially the possibility of significant financing gap over next 10 years amounting to over $12 trillion and the potential need for more domestic investor participation if foreign reserve growth slows.
Here, among other things (which potentially include the Green New Deal, with its $6+ trillion cost) the TBAC cautioned that the Treasury's financing needs are expected to increase significantly even without factoring in recession possibilities over the next decade. The TBAC warned that deficits to the tune of $1-$1.5trn a year, and cumulatively over $12trn, over the next decade, are coming and will have to be funded in the bond market. Meanwhile, the CBO stubbornly refuses to forecast a recession during the next decade, instead projecting a steady 1.5-2% real GDP growth over the next 10y. While the TBAC did not take a position on this laughable assumption, it warned that deficits typically rise 2-5% of GDP in recessions, which would translate to additional deficits of $0.5-1trn at current GDP levels, and warns that "these borrowing needs have to financed in the context of already high global dollar debt exposure."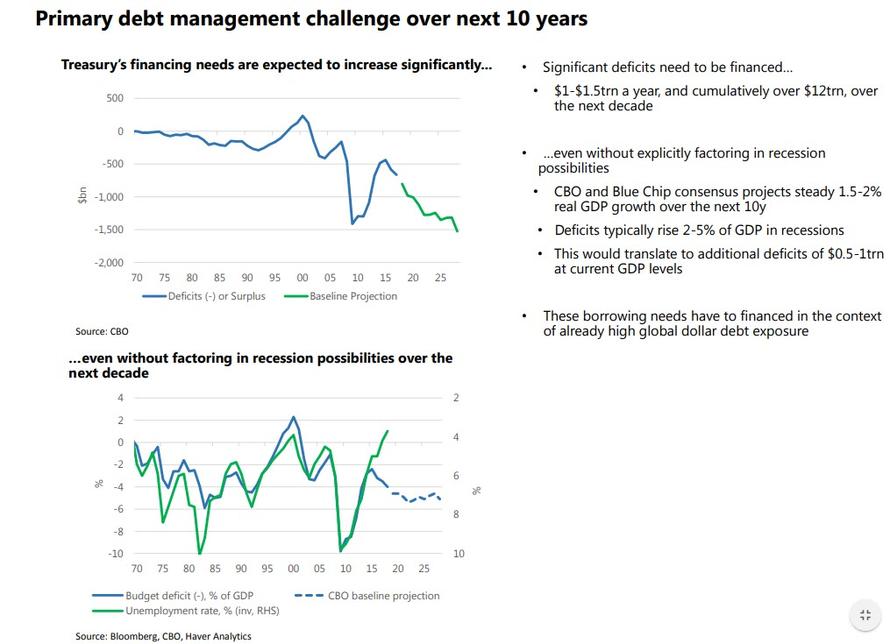 Bill Holter's Commentary
But this time it's different, right?
This is now the widest drop in Consumer Confidence Present Situation vs. Expectations since the Tech Bust.

Every other cyclical decline in the past 50 years led to a recession.

Full credit to @hussmanjp for sharing another insightful analysis. pic.twitter.com/QqioSBzPDv

— Otavio (Tavi) Costa (@TaviCosta) February 12, 2019
Bill Holter's Commentary
This is actually too funny (ironic?) for words!
After El Chapo Conviction, Use Seized $14 BILLION To Build Border Wall?
February 12, 2019
Could El Chapo's seized drug money be used to build the border wall?
That's one of the questions many are asking on Tuesday following news of the former drug kingpin being found guilty on all counts.
Mexico's most notorious drug kingpin, Joaquin "El Chapo" Guzman, will spend the rest of his life in prison after a jury found him guilty on all 10 counts following a three month trial.
According to Breitbart, the United States has seized $14 billion from the former drug lord, which gave Sen. Ted Cruz a brilliant idea.
The Texas Republican introduced the Ensuring Lawful Collection of Hidden Assets to Provide Order (EL CHAPO) Act in April 2017, which calls for the use of the $14 billion seized from the cartel drug lord to be used to pay for the wall.
"Fourteen billion dollars will go a long way toward building a wall that will keep Americans safe and hinder the illegal flow of drugs, weapons, and individuals across our southern border," Cruz said in a statement.
Bill Holter's Commentary
Probably just temporary, nothing to worry about here…right?
BREAKING: A record 7 million Americans are 90 days+ behind on their auto loan payments, a red flag for the economy, @NewYorkFed reports.

It's a million more people behind than during the financial crisis era. Many are under 30 years old.https://t.co/bgpsPgghcK #economy pic.twitter.com/XdLVLiL5zn

— Heather Long (@byHeatherLong) February 12, 2019