Jim Sinclair's Commentary
A vote for Bernie means a lot of free stuff!
Bernie Pulls Ahead of Hillary in the Presidential Race
Posted: 22 Jan 2016 03:46 PM PST
This cartoon is a collection of clichés, and it marks the first time I've drawn Bernie Sanders. I enjoy Bernie and I hope he can keep up the pace. Both Bernie and Hillary and wonderful cartoon characters, as are Donald Trump and Ted Cruz. The pundits have it all wrong, this year Americans are voting for the best cartoon candidates.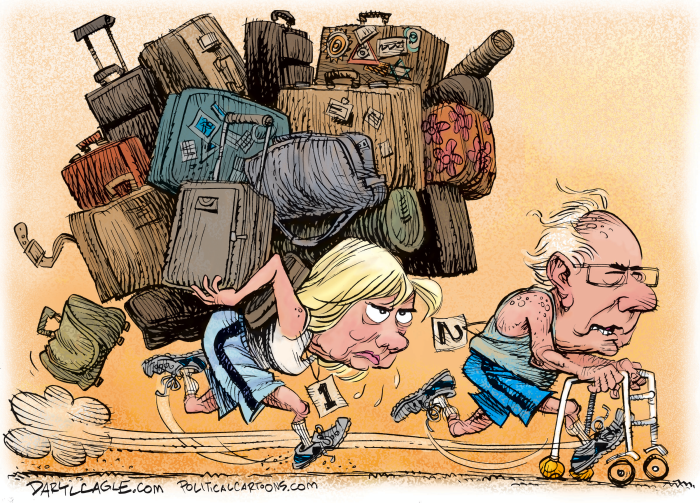 EMC, VMware, IBM, etc.: Here Come 333,000 Layoffs in Tech, Opines Global Equities
January 22, 2016, 3:36 P.M. ET
By Tiernan Ray
Global Equities Research's Trip Chowdhry, a one-man shop of investment observations, today opines that layoffs in the mainstream of tech companies are primed to become much worse than expected: He predicts there will be at least 333,000 layoffs in the next twelve months, in part because of developments such as cloud computing.
Chowdhry takes as his cue an article this morning by Barb Darrow over at Fortune, which claims VMware (VMW) is going to lay off 900 people, or 5% of its workforce, as part of its buyout by Dell along with VMware majority holder EMC (EMC). Darrow cites multiple unnamed sources regarding the layoffs.
That's nothing, says Chowdhry, asserting "the above news item is very likely accurate … but over the 2016, we could see more layoffs."
Chowdhry's philosophical justification for such a dour view is in large part that the shift to cloud computing eliminates a lot of IT talent that has been classically devoted to "back-end" operations of IT.
He opines that 70% of the work done in IT is for such back-end things, versus the 30% that is focused on, presumably, more rewarding "domain-specific" tasks.
Chowdhry thinks now with the cloud, because infrastructure is outsourced to Amazon.com(AMZN) and other Web services, the equation flips, and the talent that's in demand will be domain-are experts, while traditional back-end IT staff goes away. As he summarizes,
70% of the current work which requires Back Expertise, Products and Services is going to get reduced to 30%, and will result in massive 333,000 layoffs in the tech sector Sadly, the new jobs in Functional/Customer Domain will not be immediately filled, as those skills are scarce and the educational system is behind the curve.